Up 'N Down Banner Hoisting System
Perfect for Businesses, Government Facilities, Schools, Fair Grounds and Amusement Parks
Fiberglass Flagpoles: revolutionizing the world of street banners!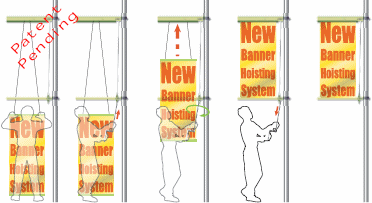 Reap the Rewards of our brand new Up 'N Down Banner Hoisting System
Efficient
You can change banners any time or take them down quickly if bad weather threatens.
Banners can be changed in minutes using the telescopic, removable handle on our hoisting system.
Banners can be installed on ANY existing lampposts, utility poles, or other circular or square poles.
Economical
You can change your banners at a much lower cost than traditional systems.
No special equipment is necessary.
Effective
Communicate the message you want, when you want.
Update your message with ease and little expense.
Dimensions
Street banners up to 42 inches wide and 96 inches high
Top bracket can be positioned up to 22 feet high
Bottom bracket can be installed up to 14 feet above the ground.
Most street banners are rarely changed. It is simply too expensive, too time-consuming and too inconvenient. When the message changes, the banners do not. And banners often look worn out from lengthy exposure to sun, wind and rain.
Fiberglass Flagpole of America's new Up 'N Down Banner Hoisting System changes all that.
Our Unique Banner Hoisting System
Maximize advertising and communication - change banners any time you want to display a new message.
Reduces the cost of installing and removing banners - eliminates the cost and inconvenience of the bucket truck, the workers who come with it and the necessity to clear parked cars for truck access.
Increases life span of your banners - you can remove banners within minutes when bad weather is forecast, saving wear and tear.
Prevents theft or vandalism of your banner - with a removable telescopic crank, only you have access to your banner.
Increase safety - hanging banners no longer requires a bucket truck or ladders, decreasing the risk of accidents.
Sturdy construction - avoids the need to replace broken brackets
Change your banners Rapidly - Frequently - Inexpensively
Get the most out of your investment with our new Up 'N Down Banner Hoisting System
Get additional information on Banner Hardware Solutions' website
SuperPole
Lightweight Poles: Telescoping - Portable - Durable
Great for outdoor events, tradeshows, temporary displays or for those times when you just want to "show your colors!"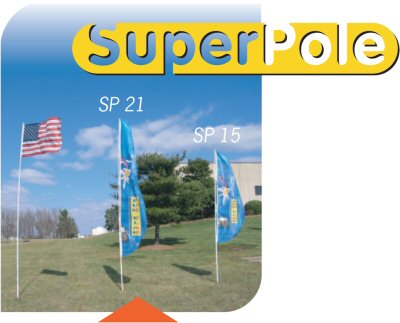 The pole is composed of three sections which are secured at the desired height with a unique locking system. Each pole comes with a 2-foot PVC sleeve and a carrying bag.
Fiberglass Flagpoles of America's SuperPole
Will not rust
Requires no maintenance
Each comes with a carrying bag for easy transport
Weighs only 5 pounds (for SP-15, for 7 pounds for SP-21 model)
Made of fiberglass, which is stronger and lighter than aluminum
Will not conduct electricity, making it safer than metal poles
Why SuperPoles are Super
Lightweight
Telescopic
Made of a resistant and a flexible fiberglass-resin composite
Woven-roven material known for strength and durability — the same material used in some swimming pools and boats
Finish protected by a UV inhibitor
Telescopic features
composed of three sections
secured at desired height by a unique locking system
SuperPole SP-15 extends from 6 feet to 15 feet
SuperPole SP-21 extends from 8 feet to 21 feet
2-foot PVC sleeve and carrying bag
Get additional information on
Banner Hardware Solutions' website

Instantly extend SuperPole SP-15 from 6 ft. to 15 ft., and SP-21 from 8 ft. to 21 ft.
| | SP 15 | SP21 |
| --- | --- | --- |
| Length when fully collapsed | 6ft | 8ft |
| Height when fully extended | 15 ft | 21 ft |
| Weight | 5 lbs | 7 lbs |
| Top section diameter | 3/4" | 3/4" |
| Middle section diameter | 1" | 1" |
| Lower section diameter | 1.1/4" | 1.1/4" |
| Wind rating when un-flagged | 75 mph | 75 mph |
| Wind rating with 3" X 5" flag | 50 mph | 50 mph |
| Warranty | 1 year | 1 year |
JokerPole
For "Blade" and "Cone" shaped flags and more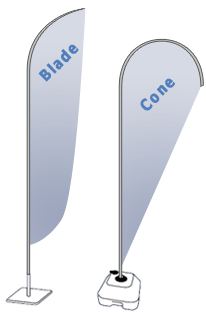 The JokerPole combines a SuperPole SP-15 or SP-21 with a connector and flexible fiberglass rods that conforms to the shape of flags with unusual shapes (Wing, Blade, Cone).
Allows you to fly the flag-shapes you want
Constant and full visibility of all flags no matter what the shape
Flies flags from 8 feet to 20 feet
Get additional information
on Banner Hardware Solutions' website
SuperPole & JokerPole Accessories
Bases, Water Tanks, Ground Spikes and Water Bags
Fiberglass Flagpoles provides a full range of accessories including:

Water Tank

-

20 liters, 44 pounds

Car Base

-

for use under the tire of a car

Indoor Square Metal Base

-

10 pounds

Ground Spike

-

with ball-bearing rotating axle

Water Bag

-

for use with square metal base to add weight (20 liters,44 pounds)
Fiberglass Flagpoles of America: Quality • Strength • Durability