Fiberglass Flagpoles of America: Quality • Strength • Durability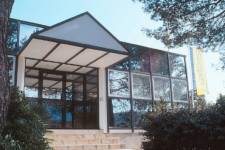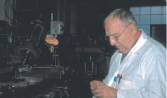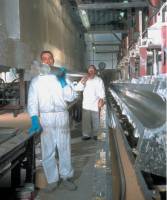 Fiberglass Flagpoles of America
A subsidiary of the renowned Flagpoles Deschamps, 50 years of manufacturing quality flagpoles
Fiberglass Flagpoles of America's parent company, Flagpoles Deschamps, has been manufacturing quality flagpoles since 1956. That's more than half a century of experience. We at Fiberglass Flagpoles of America take pride in continuing that tradition by manufacturing only the highest quality flagpoles through the use of superior technology. We constantly refine and improve our line of products whether they are banner poles, telescoping poles, portable poles, sectional poles, or traditional fiberglass flagpoles.
Quality, experience, know-how, and constant refinement make Fiberglass Flagpoles of America your best choice in flagpoles and flagpole accessories.
Why Fiberglass Flagpoles Have the Advantage Over Metal Poles
Let us Count the Ways:
Resistant to sun, moisture, and corrosion.
Finish won't discolor, darken, get powdery or crack
Lightweight
Exceptional strength. Un-flagged poles are designed to withstand wind speeds up to 210 MPH
Quiet. No annoying clanging halyards common to metal poles
Safe. Fiberglass poles do not conduct electricity. Fiberglass poles do not attract lightning.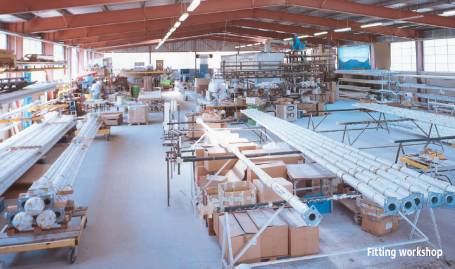 A Better Manufacturing Process Means A Better Flagpole
Our flagpoles have a finish that does not age. With our unique manufacturing process, the outer coating on our poles bonds permanently with the surface. This allows the poles to retain the same pristine appearance for a lifetime. The finish on other fiberglass poles can become powdery over time, or crack and spiderweb. You will never have this problem with our fiberglass flagpoles.
Fiberglass Flagpoles of America's manufacturing process is unique; it is the only fiberglass flagpole producer to use a heated clamshell mold. With this process, our poles are 97% cured when they are taken out of the mold, a curing level which improves composite strength and gelcoat bonding.
Fiberglass Flagpoles of America uses more fiberglass than resin. And we use a fiberglass material of high quality with single strand sheets. This gives our poles their exceptional strength and durability. This and the heated-clamshell-mold process give our poles exceptional strength and durability.
And because we use a highly resistant composite, we are able to make large, convenient access doors for flagpoles and banner poles with internal halyards.
In Search of the Perfect Flagpole: Fiberglass Flagpoles of America's Pledge
We pledge to continue our research and development in the effort to create the perfect flagpole. We continue to enhance our flagpoles, to increase durability and resistance, design improvement, innovation, user-friendliness, and lower cost.
Cutting-Edge Research and Manufacturing Technology
At Fiberglass Flagpoles of America, our technicians use state-of-the-art computers and manufacturing equipment, work with educational institutions to develop new techniques and composites, and are involved with highly regarded professional associations—all in the service of improving our flagpole products. When you buy Fiberglass Flagpoles of America products you buy into a company which not only uses a unique manufacturing process but also creates new processes. Fiberglass Flagpoles of America owns several patents on these processes.
Fiberglass Flagpoles of America - Poles Apart from the Competition
Fiberglass Flagpoles of America Offers Four Distinct Types of Flagpoles
Featuring internal or external halyards, rotating heads, sectional poles (one-piece, or two-piece for lower shipping), yardarm
For commercial or municipal use to display banners
Portable, lightweight, telescoping
For wing, blade or cone-shaped flags
And a unique line of street banner brackets through our subsidiary, Banner Hardware Solutions.
Fiberglass Flagpoles of America: Quality • Strength • Durability