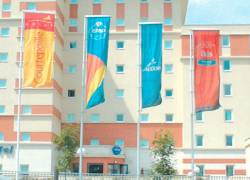 Turn Your Next Marketing Campaign Into A Banner Day
There is no way to ignore a banner.
Secured to an attractive pole system, its edges crimping and fluttering in the breeze, your branded colors serving as a background for your marketing message—neither motorist nor pedestrian can ignore a well-designed, well-displayed banner.
But wait. You're wondering if this marketing tool, effective as it is, could be worth the price. Don't you need a bucket truck to get workers high off the ground to hang the banners and take them down again? What if a storm blows up and rips your expensive banners to shreds? There's an investment down the tubes. And if the breeze goes calm, and your banners droop, so does your return on investment. Right?
Acutally, no.
With banner pole systems from Fiberglass Flagpoles of America, you won't have these problems.
No bucket truck: One person can raise or lower a block's worth of banners as easily as raising and lowering flags, with feet firmly on the ground.
No problem storms: If high winds are forecast, the banners can be taken down and safely stored as quickly and as easily as they went up.
No breeze? No problem: The upper banner pole arm keeps your marketing message extended and fully visible.
Small budget? Banner poles are an inexpensive investment.
Fiberglass Flagpoles of America has a banner pole style to suit any budget.
Want to run the banner up quickly? Buy a pole system with an internal halyard. The hoist system is contained within the main support column and protected from vandals by a nine-inch access door. The poles can be installed using a ground sleeve or a tilt base.
For something simpler, a banner pole system without the halyard also is available. Just use the tilt base to lay the pole along the ground while you affix or remove the banner.
It couldn't be simpler. It couldn't be easier. It couldn't be more affordable. Check out banner pole systems from the leader in flagpoles: Fiberglass Flagpoles of America.
Believe us. It will be your banner day.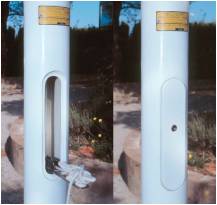 A 9 inch, vandal-proof access door to rapidly and easily hoist/lower the banner and store the halyard.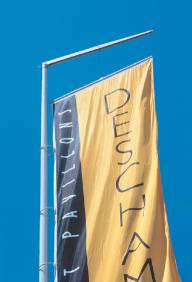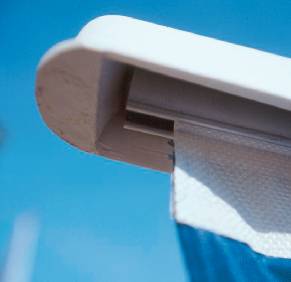 Fiberglass Flagpoles of America
Quality • Strength • Durability
Model
Exposed height
Butt diameter
Top diameter
Unflagged
Constant Wind Speed
Flagged
Constant Wind Speed
Weight
B20
20'
43/16"
23/4"
210 MPH
10' x 4'
140 MPH
23 LBS
B25
B25-IHL
25'
25'
41/2"
41/2"
23/4"
23/4"
190 MPH
200 MPH
10' x 4'
10' x 4'
130 MPH
140 MPH
34 LBS
47 LBS
B30
B30
B30-IHL
B30-IHL
30'
30'
30'
30'
47/8"
47/8"
47/8"
47/8"
23/4"
23/4"
23/4"
23/4"
170 MPH
170 MPH
190 MPH
190 MPH
15' x 4'
15' x 5'
15' x 4'
15' x 5'
110 MPH
105 MPH
130 MPH
125 MPH
45 LBS
45 LBS
62 LBS
63 LBS
B35
B35
B35-IHL
B35-IHL
35'
35'
35'
35'
51/4"
51/4"
51/4"
51/4"
23/4"
23/4"
23/4"
23/4"
160 MPH
160 MPH
180 MPH
180 MPH
17' x 4'
17' x 5'
17' x 4'
17' x 5'
105 MPH
100 MPH
125 MPH
120 MPH
62 LBS
62 LBS
82 LBS
83 LBS
B40
B40-IHL
40'
40'
52/3"
52/3"
23/4"
23/4"
140 MPH
160 MPH
20' x 5'
20' x 5'
90 MPH
110 MPH
81 LBS
105 LBS